Pool Heating


1.) Make sure that all circuit breakers are ON and in the correct positions. The breakers on the right side need to be pushed all the way to the left and the row of circuit breakers on the right have to be pushed all the way to the left to be ON. See Diagram 1 below.
(Diagram 1 Breaker Panel)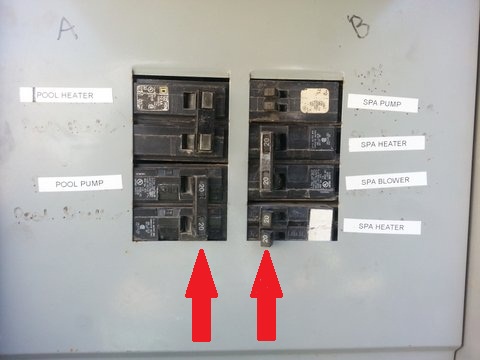 2. Turn the POOL PUMP on and select speed 4. The password to access the POOL PUMP settings is 0755. Please note that the POOL PUMP panel is unside down and is located on top of the pool pump. The pool pump is the pump on the left if your facing the pool equipment. You will have to enter the password and use the arrows to enter the code from left to right. By default you will start entering the password from left to right and will have to use the up and down arrows to enter the numbers. After the password has been accepted the keypad will be unlocked. Press the SPEED 4 BUTTON and then the START BUTTON to turn the pool pump on the highest speed.
Note the pool heater will not work on the default lowest speed setting which is used for normal filtering.
3. Turn the Hayward heater on the desired temperature by unslecting STANDBY MODE and selecting POOL MODE.
Note: The pool only heats about 1 degree per hour at the temperature of 50 degrees F.
4. You will need to turn the pool heater on daily in the morning time because the default schedule does not operate the pump at the 4th speed by default.
Note: If the heater says LO that means the pressure has either dropped and or the pump is on the wrong speed (most likely the default speed). Reset the mode on the pool heater to STANDBY MODE and correct the POOL PUMP speed to speed 4. Then turn the heater back on by changing the mode to POOL MODE. Confirm temperature is still set to your desired temperature by using the blue and red arrows.
ADDITIONAL CHARGES WARNING
THE POOL IS VERY LARGE AND DEEP WHICH MEANS THE POOL CONSUMES A LOT OF PROPANE GAS WHILE IT IS HEATING. YOU WILL DEFINITELY BE CHARGED ADDITIONAL MONIES DURING THE COOLER MONTHS FOR POOL HEATING WHEN SETTING POOL HEATING TEMPS OVER 75 DEGREES . PLEASE MONITOR THE GAUGE ON THE LARGE PROPANE WHICH IS LOCATED IN THE BACK RIGHT CORNER OF THE LOT BEHIND THE FENCE. VIEWING THE GUAGE WILL ASSIST YOU IN MEASURING CONSUMPTION. YOUR ALLOTMENT CAN BE FOUND ON YOUR RENTAL AGREEMENT.