Spa and Pool Heating


Pool Heating
Confirm the valve position(s) pictured below in the picture(s) are exactly how your valves are currently positioned. Take note of the direction of the handle(s) and I strongly suggest you take a picture with your phone. This should be the "Pool Mode"
Confirm the Pool Filter Pump is running by confirming water is running through the filter pump. The Pool Filter Pump is located above the red marking in the picture below. You should see water running through the top of the glass lid if it is running properly. If you dont see water, call the property manager.
Note: Before you start to try and heat the pool and or spa, confirm the pad lock has been removed from the valve on the propane tank. The propane tank is locate on the left side of the house (if your facing the street) behind the RV gates. Please also take a picture of the gauge on the top of the tank to eliminate and discrepancies on the start percentage of propane.
Turn the pool/spa heater (it is beige and says mini max) on by adjusting the mode from off to either pool or spa mode. The only differnce between the pool and spa mode is the preset temperature. Be careful not to try and heat the pool to the preset temperature of the spa. Agood pool temperature is 80.
If you would like to Heat the spa only, You will need to turn the Filter Pump Intake Valve.The Filter Pump Intake Valve is below with the red arrow above it. Turn the valve in the direction of the red arrow for spa heating only. The valve handle will be in the exact opposite position as it is below. This will only heat the spa.
DO NOT LEAVE THE FILTER PUMP INTAKE VALVE IN SPA MODE FOR LONGER THAN 8 HOURS OTHERWIISE THE WATER WILL TURN GREEN FROM A LACK OF CIRCULATION.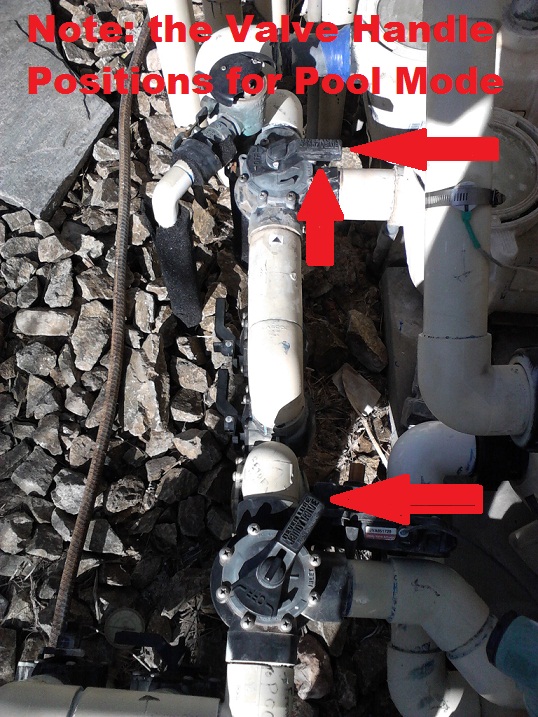 Note the Valve position(s) for Spa Mode below.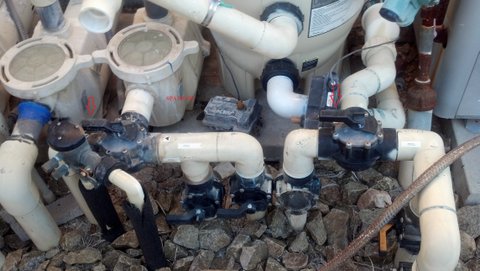 Notice the position of the valve in the picture below. This is the Off Position for the Waterfall/Fountain